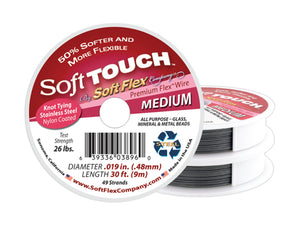 Soft Touch Beading Wire
Soft Touch™ Wire is strong as steel and soft as silk.
Soft Touch™ Wire is a lead-free beading wire for designers that want a premium product for their designs. Soft Touch™ Wire has the softest drape on the market, your pieces will lay like they were strung on thread. Soft Touch™ Wire is constructed of either 7, 21 or 49 micro woven stainless steel wires. It is supple enough that it can be knotted. It is available in 4 diameters: very fine (.25mm), fine (.36mm), medium (.48mm), and heavy (.61mm). We recommend Soft Touch™ Wire for designers that want their pieces to last and eliminate the frustration of restringing.